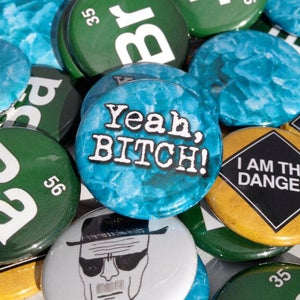 $

2.00
Remember one of the many memorable lines from Jesse with this "Yeah, bitch!" magnet!
Get it? It's a magnet, that says "Yeah, bitch!". Just like that time Jesse said it when they (spoiler alert) built a huge magnet in the back of the truck! Buy 2 or more of them and quote the show verbatim while explaining exactly what it is you have!
Contains one 1" button magnet.
Note: any of these buttons can also be made in to magnets. Just get in touch!
Shipping outside the US? Please get in touch for shipping rates. info@button-lab.com