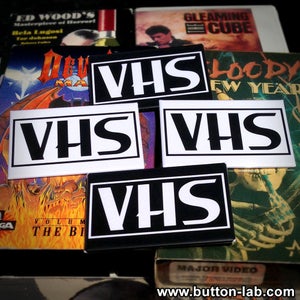 $

3.00
We love technology!
Show your love for the "Video Home System" format and remind people of the good times of going to the local video store and picking up some New Releases or Cult Classics. How about collecting episodes of "The X-Files" and "The Angry Beavers" off the TV every week?
These 3" x 2" buttons can also be had as magnets! Want a certain color button? Let us know and we'll make it for you!
Buttons are $3 each or 2 for $5.
Magnets are $4 each or 2 for $7.
Send us a note with your color combination if you are ordering a 2 pack to info@button-lab.com.
Shipping outside the US? Please get in touch for shipping rates. info@button-lab.com