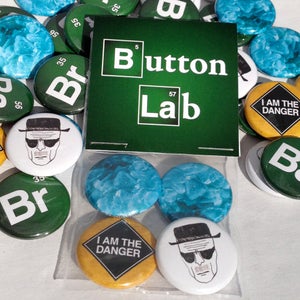 $

5.00
This pack of 1" buttons features 2 "Blue Sky", a HazMat "warning", and a Heisenberg sketch.
Fans of the show will immediately recognize your excellent taste in fashion accessories and appreciation of fine scripted television.
Each buttons has a brief quote from the show on the back ring!
Contains 4 x 1" buttons in bag with a header card.
Shipping outside the US? Please get in touch for shipping rates. info@button-lab.com